Influx, Cynthia-Reeves, Vermont, 2017
Exposed, Helen Day Art Centre, Vermont, 2017
Morphous, Union Square, New York, 2017
PUBLIC INSTALLATIONS
CYNTHIA_REEVES
MASS MoCA WAY, NORTH ADAMS, MASSACHUSETTS
2016 - 2017
Working in tandem with municipalities, non-profit entities, curators and public parks, the exhibition INFLUX, as part of The Avenue Concept consecutive public art exhibitions realized by the Cynthia-Reeves gallery, international and museum exhibiting artists Lionel Smit, Jonathan Prince, JaeHyo Lee and George Sherwood were publicly installed. Featured in downtown Providence, Rhodes Island is Smit's Colossal Fragment sculpture (Bronze, 315 x 180 x 110cm, Edition 3 of 6, 2016).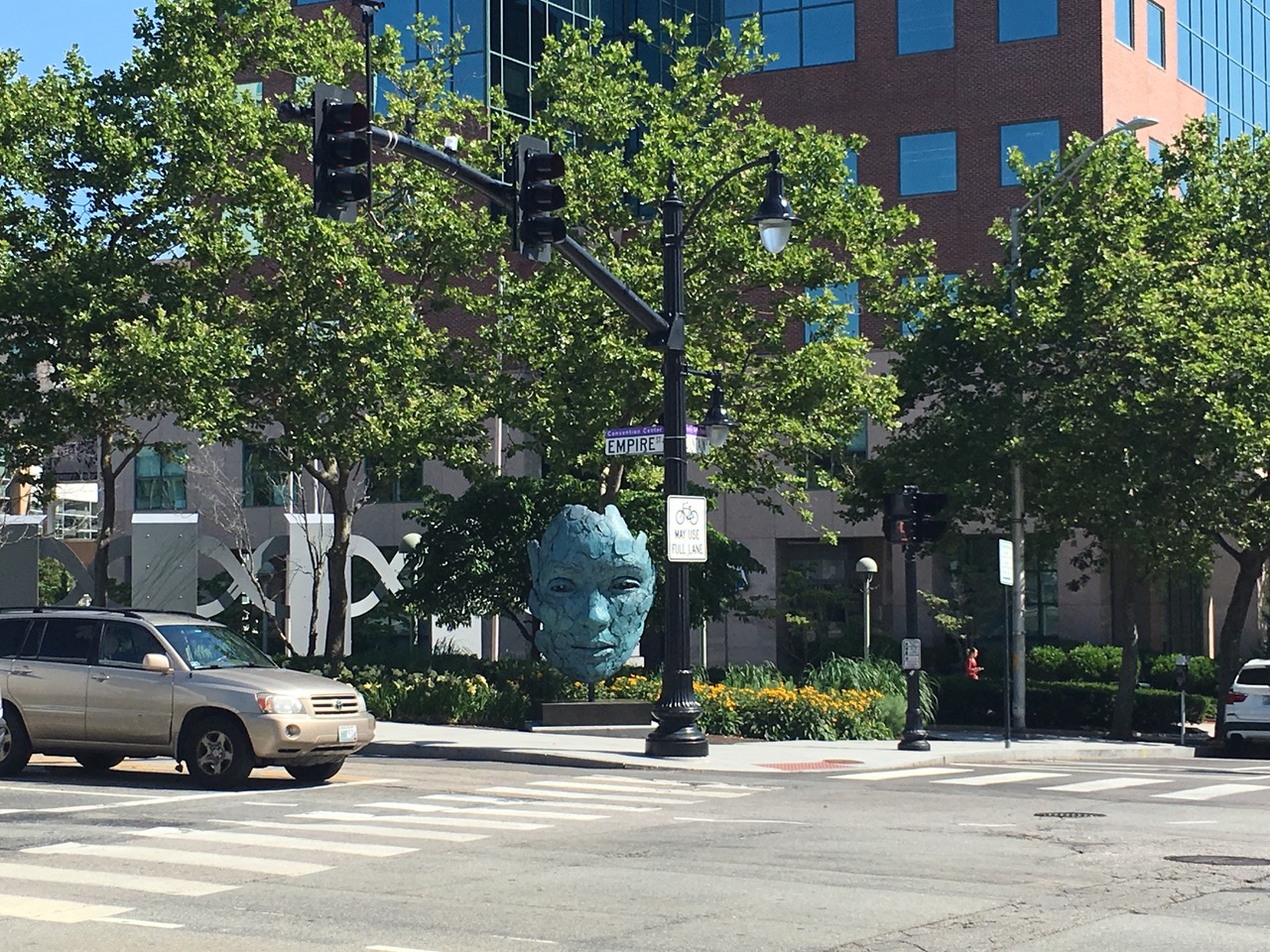 With significant support from the Stowe community, the outdoor sculpture exhibition EXPOSED featured internationally renowned sculptors Mark di Suvero and Lionel Smit, alongside New York artist Victoria Palermo, and regionally established artists Judith Wrend, Walter Horak, Christopher Curtis, Ted Ceraldi, Karen Petersen, Tom Douglas, Rodrigo Nava, Colin Moore. Mark di Suvero. This was with the inclusion of the Lionel Smit sculpture Morphous (Bronze, 375.8 x135 x 240.8cm, Edition 3 of 4, 2014). Curated by Rachel Moore, Director and Curator at the Helen Day Art Center and Stephanie Walker, Assistant Curator.
Cynthia Reeves, in collaboration with the New York City Parks Department, the Union Square Association, and Art New York, presented MORPHOUS, a bronze sculpture by South African Artist Lionel Smit, installed in Union Square. The sculpture is an exploration of hybrid identity and its ever-changing nature in South Africa's social landscape.
Cynthia-Reeves Public Art
Cynthia-Reeves has initiated public art projects in the US and abroad, placing large-scale works in the public domain for both permanent and temporary installations.
For temporary public art programming, Cynthia-Reeves has collaborated with a number of municipalities, including New York City Parks Department, Hudson River Park Trust, The Union Square Association, The City of Boston, and the Kendall Square Association in Cambridge, among other cities and non-profit arts organizations throughout the US. The gallery has been responsible for over twenty projects, siting large scale works for one and two year-long installations.
Cynthia-Reeves permanent public art programming for companies developing large campuses and urban spaces. For these projects, we thoughtfully review the specific identifiers for the community: landmarks, the history that shapes its sense of identity, topographical / geographical references, and notable businesses and personalities that have shaped the community. Taking our cue from these reference points, we review innovative material selections, interpretive methodologies, scale considerations, and siting opportunities to inform the project's creative guidelines.
The gallery collaborates with urban planning teams, landscape architects and corporate clients to clarify the role of public art in a successful urban redesign. Applied thoughtfully to the urban landscape, public art reinforces one's sense of place, reinvigorates an appreciation of one's surroundings, and creates a dynamic sense of connectedness among neighbors, companies, and the community at large.
For further information http://www.cynthia-reeves.com/public-art-approach/